Kyle Schwarber
Position: That's a good question. Probably outfield.
2015 Stats: 69 G, 273 PA, .246/.355/.487, .307 TAv, 1.9 WARP
Year in Review: Kyle Schwarber impressed the Cubs' brass from the moment they first met him, in February of 2014. That month, Schwarber's Indiana Hoosiers traveled to Arizona for a series of springtime games against Washington, Utah, and Oregon State. Theo Epstein and Jason McLeod were in town for big-league spring training, and they asked for the opportunity to meet with Schwarber, who they already had near the top of their draft sheet. They liked his bat, they told him, but had heard persistent questions about his ability to catch moving forward. Schwarber's response?
"You know, it really f*****g pisses me off when people say I can't catch."
The Cubs were sold on the young man's intensity, and when the draft rolled around in June, they took him fourth overall, behind a trio of stud pitchers: Brady Aiken, Carlos Rodon, and Tyler Kolek. At the time, many in the industry questioned the pick: the scouting community liked his profile, but weren't sold on his future position and had questions about some swing and miss in his college game. Many would have preferred the Cubs go after another top pitcher—LSU's Aaron Nola—or Oregon State's Michael Conforto, an outfielder with a polished approach at the plate. The Cubs didn't budge, telling the press immediately after the draft that they had Schwarber second on their board, after Aiken, and that they saw Schwarber as the best hitter in the draft, period.
Now, the vast majority of the 2014 draft class is still working their way through the minor leagues, so it's too soon to render a final verdict on the Cubs' choice last year, but we can say this already: Kyle Schwarber can hit big-league pitching, and hit it well. After rocketing through the Cubs' system, Schwarber made his big-league debut a mere 371 days after he was drafted, in a night game at Wrigley against the Indians. After all those questions about his ability to catch, it must have been gratifying for Schwarber to make his debut behind the plate, catching the top of the ninth inning for Chicago before getting a lone plate appearance in the bottom of the frame (he struck out).
From that point on, the first few months of his big-league career were a waking dream. In his first 101 plate appearances, running from his debut in June until August 8th, Schwarber hit .352/.436/.625, with six home runs and 11 walks. He was the toast of the league. That's the part of Schwarber's season you probably remember. What you might not remember is this: from August 9th until the end of the season, Schwarber slumped—badly. Over his final 172 plate appearances, he hit just .181/.308/.403, adding another 10 home runs to his profile and maintaining his strong walk rate, but otherwise collapsing at the plate. So what happened?
I'm here to assert that it was mostly luck. I didn't start out thinking that, but bear with me. Here's a chart which shows the percentage of hard, breaking, and offspeed pitches Schwarber saw in 2015, by month: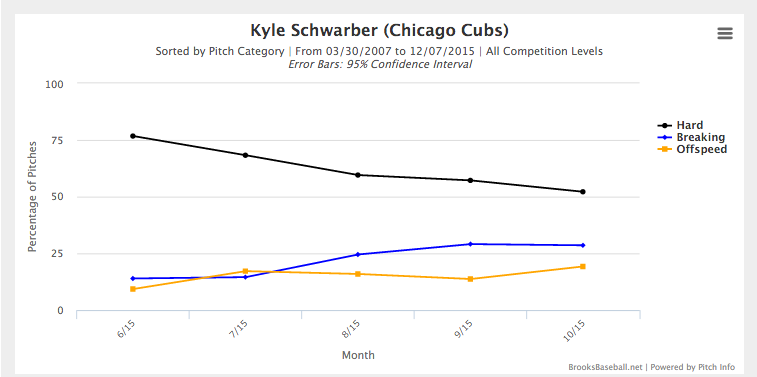 Looking at the chart, a narrative immediately pops into my head: Schwarber stopped seeing fastballs (which are easy for most big-leaguers to hit, given enough practice) and started seeing a steady diet of breaking and offspeed pitches, which he couldn't hit. Makes sense, right? Except that doesn't appear to be what happened. Check out Schwarber's whiff rates on all three categories of pitches: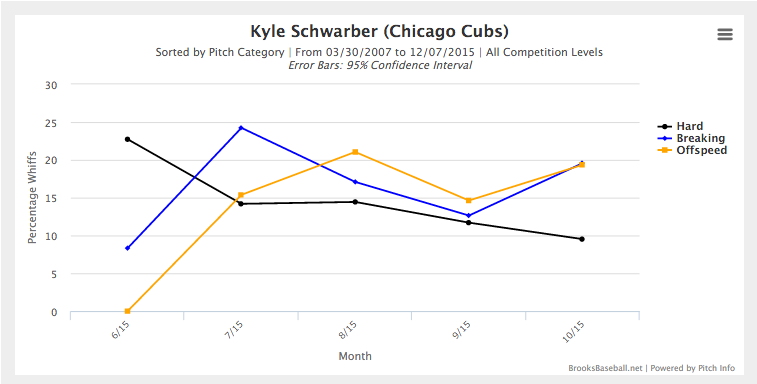 Sure, his whiff rate on soft stuff went slightly up in October, but it didn't get any higher than it had been in July and August, when Schwarber was destroying the league, and his ability to hit fastballs actually improved quite a lot as the year went on. So it's not like his huge drop in batting average came from increased whiffs; the evidence is right above you.
But maybe Schwarber just wasn't hitting the ball hard later in the year? No, that's not right: his hard-hit rates by month, starting in June, were 29 percent, 52 percent, 34 percent, and 43 percent (for September and October combined). Those are all over the place, and don't seem to have a lot to do with Schwarber's overall performance.
But here's something. Check out Schwarber's BABIPs by month: .538 (June), .379 (July), .226 (August), and .244 (September/October). That's the picture of a guy who's just not finding holes for the balls he's hitting. Some of that is coming from an increased tendency to hit the ball on the ground—Schwarber's GB% was about 41 percent in August and September after sitting around 37 percent in June and July—but some of it is just plain bad luck.
And that's why it's a bad idea to look at batting average as a primary indicator of offensive performance. Let's take a look at those two batting lines again—one from before August 8th, and one from after:
.352/.436/.625
.181/.308/.403
The difference between the two batting averages is 171 points (352 – 181). The difference between the two on-base percentages is 128 points (436 – 308). That means that literally more than 100 percent of Schwarber's late-season decline in on-base percentage can be explained by his lowered batting average, which in turn (I'd argue) can be explained by pure bad luck. Schwarber's walk rate actually increased in the second half of the season, from 8.4 percent to 12.7 percent, and his decline in slugging percentage can be explained almost entirely by a drop in extra-base hits (the kind you can get unlucky on), not by a drop in home runs: his HR/PA rate stayed essentially constant at 5.8 percent in the last two months of the season, after sitting at 5.9 percent in June and July. That's not exactly falling of a cliff.
Looking Ahead: So where does that leave us for 2016? If you're willing to buy my story that Schwarber is absolutely fine offensively, then here's your answer: in a pretty good position. And that's where I'd leave this story, except that we haven't talked about something important yet: Schwarber's defense. I actually wrote a whole piece about this last month, which I'd encourage you to read, but in case your clicking finger is feeling tired, here's the key quote:
I'm not here to defend Schwarber's defensive game on the whole. There are a lot of reasons to be concerned about Schwarber's glove behind the plate, and I'm one of the guys who believes that he'll never really be able to stick there and should be put in the outfield full time. And there's no doubt that Schwarber's defensive performance in the NLCS—particularly his decision-making—was rightly maligned. But don't let small sample size or recency bias cloud your judgment about his skill in left field overall. Kyle Schwarber, left fielder, was better than many others in 2015, and he's ready and willing to put in whatever work is necessary this offseason to become even better in 2016. That shouldn't be controversial at all.
Looking back on that paragraph a month later, I stand by it. Schwarber will get a few starts behind the plate in 2016, but with Miguel Montero and David Ross taking up the vast majority of the playing time in the first half and (I suspect) Willson Contreras getting a look in the second, there'll be scarce opportunity for Schwarber to prove himself behind the plate. That means the bulk of his defensive innings will be spent in left field, where I honestly believe he'll be perfectly adequate next year. Remember how angry Schwarber was when told there were questions about his catching? That's the same work ethic he'll bring to solving what problems still exist with his outfield defense, except in this case the degree of difficulty will be much lower. That leaves me fairly optimistic about his overall projection for 2016.
PECOTA, for what it's worth, agrees with me, projecting a .255/.340/.463 line for Schwarber next year, with 11 home runs and 4.1 WARP. Though I rarely ever do this, I think I'll take the over on that projection. The home run total, in particular, looks low, and I think it's being driven by the decline in doubles Schwarber saw in August and September, which I believe was a fluke. The WARP total sounds about right, though, even if I wouldn't be surprised if he hits the 5.0 mark when all is said and done. In a pantheon of young Cubs stars, there's every reason to believe Schwarber will continue to shine brightly in 2016.
Lead photo courtesy Matt Marton—USA Today Sports.