I'm tempted to lead this preview with Things We Learned From Game One, but baseball doesn't really work like that. Johnny Cueto is really good; Jon Lester is really, really good; Kelby Tomlinson wears glasses and has a weird name; Javy Baez hits some sweet dingers. (For a somewhat less pithy recap, check out Henry Druschel and Rian Watt, from yesterday.) The teams are the same, and we shouldn't expect anything different from players that we've seen for 162 games just because of game 163. The Cubs are still better than the Giants, and there is, unfortunately perhaps, still a very real possibility that the Giants will beat the Cubs in one, two, or three games this series. That's why the playoffs are fun, I am told. Some things about Game Two will definitely be different from Game One, though, so let's focus on those.
***
The Pitching Matchup: Kyle Hendricks vs. Jeff Samardzija
| | | | | | | | | | | |
| --- | --- | --- | --- | --- | --- | --- | --- | --- | --- | --- |
| Player | Innings | BB | K | HR/9 | GB% | OPP TAv | WHIP | cFIP | DRA | WARP |
| Kyle Hendricks | 190 | 44 | 170 | 0.7 | 50% | 0.262 | 0.98 | 92 | 3.34 | 4.4 |
| Jeff Samardzija | 203.3 | 54 | 167 | 1.1 | 47% | 0.263 | 1.2 | 101 | 4.37 | 2.3 |
It's weird to say now, but Kyle Hendricks is a household name, a Cy Young contender, and one of the most valuable young assets in baseball. His 2.14 ERA led the majors this year, and his changeup is absolutely befuddling. His peripheral stats, though, as you can see above, suggest that his results have outstripped his actual performance this year. Opponents have a league average TAv when facing him, and his cFIP (a prescriptive stat which projects future performance) suggests that he is likely to only be eight percent better than league average going forward. His DRA of 3.34 is very good, but not quite as dazzling as his results.
Luckily for the Cubs, Hendricks did not accumulate his excellent results in a vacuum. Or, rather, he did, and that vacuum was the Cubs' defense. As I noted in my season recap on Wednesday, the Cubs' defense has been historically great this year, and its tide has raised all boats. Nobody has benefitted more than the contact-oriented Hendricks, and there is no reason this trend can't continue in the postseason.
If you really want to find some reason to worry, check out the slight dip in velocity that Hendricks has seen across all his pitches over his past several starts: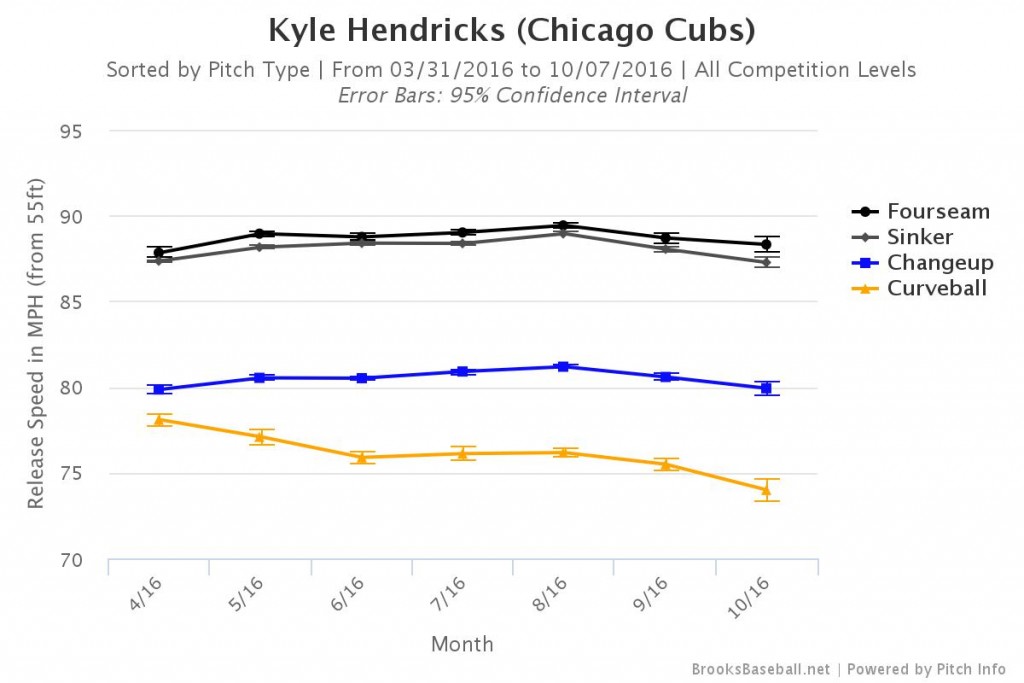 Hopefully, some of that velocity loss stemmed more from saving his arm than fatigue, and hopefully it continues to not matter much anyway (spoiler—it probably won't—pitcher velocity moves all the time). But it's something to watch for as Hendricks nears 200 innings, a milestone he has never before achieved.
Meanwhile, Jeff Samardzija takes the mound for the Giants against his former club at Wrigley. While this might not be the near-ace level Samardzija Cubs fans remember from 2013 and 2014, it's also not the bad Samardzija Cubs fans remember from the White Sox last year. His season stats are underwhelming; he's basically been a league average pitcher over the course of the season. But, over the last two months, his pitch usage has undergone something of a revolution: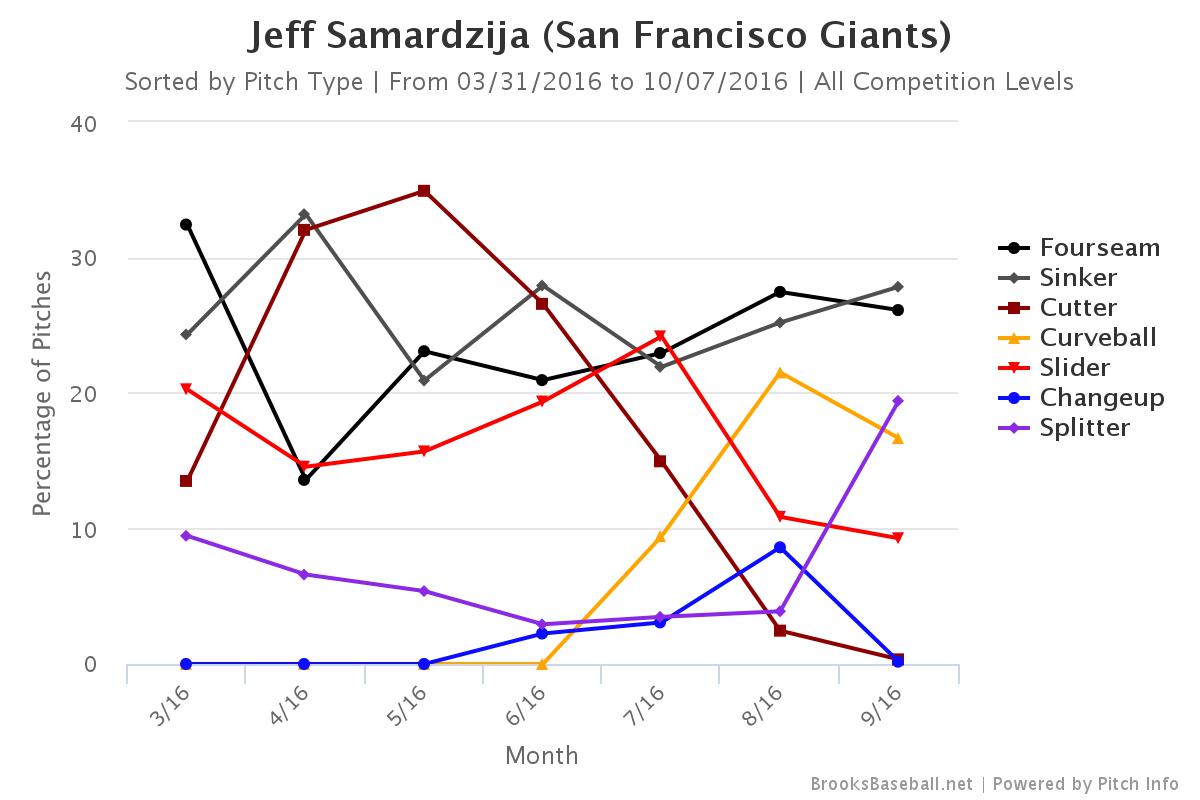 Since July, and most notably in August and September, Samardzija has all but abandoned his cutter, and replaced it mostly with a dramatically increased reliance on his sinker. He threw the sinker nearly 20 percent of the time in September, and the Cubs will want to be wary because August and September have been by far Samardzija's best months of the year. He's got a 2.87 ERA in 69 1/3 innings since August 1, and he finished out the year with five very strong starts, in which he went at least six innings each time. His last start was best; he struck out 11 Rockies without allowing a run. It's hard to summarize Samardzija, because his career has had so many different iterations. Suffice it to say: he's not an ace, but don't be surprised if he looks good.
The Lineups
The Giants' lefty-heavy lineup is probably more appealing to Bruce Bochy than the one they ran out against the southpaw Lester on Friday. In addition to Brandon Belt, Connor Gillespie, Brandon Crawford, and the switch-hitting Angel Pagan, we'll likely see Denard Span and Joe Panik in for Gorkys Hernandez and Tomlinson, respectively. Span will likely leadoff; Panik will be in the bottom half of the order. This is the Giants best lineup. It's not powerful, but it's deep, and as we've learned, even Gillespie can get to you if you're not careful. Hendricks' changeup has dazzled lefties all year; watch how it's moving early on.
On the Cubs side, we'll likely see Willson Contreras making his first playoff start. Though the Cubs will lose the platoon advantage in each game, they are likely to play Contreras with Hendricks in Game Two (the duo has produced a 1.51 ERA when together this year), and Miguel Montero with Arrieta in Game Three. Look for Joe Maddon to use the suddenly hot Montero off the bench as soon as Hendricks leaves the game, though.
The rest of the lineup leaves us with a few more questions. Maddon could decide to stick with Baez at second base, or he could go with either Chris Coghlan in left (and Zobrist at second) or Tommy La Stella at second (with Zobrist in left). None of these options jumps off the page; two of them give a platoon advantage, but each has defensive drawbacks. Maddon will have to weigh the defensive value of Baez at second behind Hendricks against whatever upgrade the lefties offer over Baez offensively (if any). We could also potentially see Jorge Soler's playoff debut in left tomorrow, but I think we're more likely to see him Monday against Madison Bumgarner, possibly spelling Jason Heyward for the night.
Bullpen Situation
This was going to be a fuller section, but since Aroldis Chapman was the only pitcher used out of the 'pen yesterday, not much has changed here. All pitchers will be available on both sides. The Cubs' bullpen is still better than the Giants'.
***
Game Two means what Game Two always means. It's the chance to take a truly commanding lead of the series versus the chance of handing home-field advantage back to the Giants. It's the difference between putting Madison Bumgarner's back up against the wall in Game Three and giving him the chance to do the same to the Cubs (though Jake Arrieta certainly would have something to say about that). Each team will be incredibly motivated to win, and each team will have a very real chance at winning. There's no way to predict the playoffs, except to say that we should see another beautiful and heart-wrenching game at Wrigley Field on Saturday night. It starts at 7 Central.
Lead photo courtesy Jerry Lai—USA Today Sports.